7 Reasons Why Your Property Deserves Commercial Pressure Washing in Toronto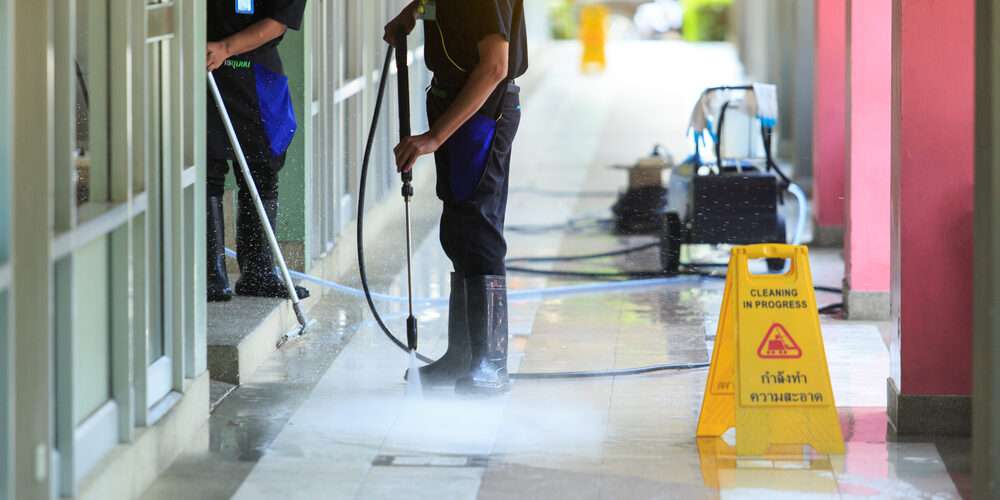 Buildings are subjected to various harmful contaminants like UV radiation, dust, dirt, algae, mold, and insects all year. It results in accumulation on siding, embedded spots in driveways, and the formation of black streaks on roofs. How, then, can we avoid this? Regular upkeep is the solution which is providing commercial pressure washing in Toronto. 
Every building should be power washed on a consistent and regular basis. The benefits are more extensive than you might think. Hence, these are the reasons why commercial pressure washing in Toronto is essential for your building.
Commercial Pressure Washing Company in Toronto
If you live in Toronto, you're in luck since GCBS Group can take the exterior of your building to a notch higher, increasing its attractiveness and aesthetic look to all who enter.
With our expertise, pressure washing can improve several aspects of your property. Traditional cleaning methods would take a lot of time and effort, but you can breathe fresh life into your area quickly and conveniently. Commercial pressure washing in Toronto saves time and immediately improves your curb appeal while being environmentally friendly.
1. Enhance Your Curb Appeal
As the saying goes, "first impression is the last impression"; customers are more inclined to visit offices with good curb appeal. Older buildings accumulate filth, grime, and mildew on the outside in damp locations. When all of these factors are combined, buildings appear ancient and unclean. 
Regular commercial pressure washing in Toronto maintains the building's facade clean and shiny by eliminating dirt and grime. Even old structures would look brand new when they are pressure-washed regularly. It scrapes off the mildew along with any mildew stains.
2. Improving the Hygiene and Safety of Your Buildings
Mold, mildew, algae, and filth constantly accumulate in your building. These pollutants can pollute the air in your facility and pose a severe health risk. Regular commercial pressure washing in Toronto promotes healthy air quality and hygiene. 
Mold, mildew, and algae can all grow on a sidewalk. They produce a dangerously smooth surface. Commercial pressure washing in Toronto eliminates this threat.
3. Cleanup the Surrounding Areas
Professional commercial pressure washing in Toronto benefits more than walls, windows, and roofs. It can also help other areas of the building's property. One of the most often pressure-washed areas is the sidewalk and path in front of a building. This procedure can eliminate intrusive gum and trash stains.
Commercial pressure washing in Toronto is also helpful for loading docks, garbage areas, parking lots, walls, and banners. Along with improving the building's aesthetics, they will also enhance the visitors' and workers' experiences.
4. Save Money 
Pressure washing your commercial property can help you save money that would've been spent on costly repairs, just like proactive maintenance of your car or home appliances does. 
Commercial pressure washing in Toronto aids in preventing the buildup of dirt and other impurities that could wreak havoc on your building and necessitate costly repairs or replacements later on.
5. Eradicating Graffiti
Commercial Pressure Washing in Toronto is one of the best ways to get rid of graffiti in addition to filth and mildew. Graffiti removal cannot be accomplished with most standard cleaning techniques; nevertheless, commercial pressure washers are more than capable.
Your building and the surrounding structures lose value due to graffiti. There is no other way to utilize a commercial pressure washing Toronto service.
6. Prevent Surface Damage
While pressure washing is an important strategy to prevent damage from grime and filth buildup, pressure washers do have the power to damage surfaces if operated by an inexperienced or untrained user. It is because pressure washers have a range of pressure settings, and you must be aware of the correct settings for the suitable surface being pressure washed to avoid damaging the surface or not being able to clean 100%.
Companies that offer commercial pressure washing in Toronto, such as GCBS Group, have the required experience and trained workforce that knows how to choose the correct pressure for each cleaning task, so they can leave your surfaces spotless without any risk of harm.
7. Assuring a Quick Inspection
Did you know? Before becoming noticeable, structural and maintenance issues might be concealed by filth, mold, and other contaminants. Cleaning your building will help you find minor problems before they grow more serious. Cleaning is preferable to cleaning late, and routine scheduling maintenance is preferable to waiting until you need it.
Commercial power washing in Toronto may not only maintain the spotless exterior of your building but also streamline your monthly inspections, saving you time and money. After all, it is much simpler to inspect a clean structure than a dirty one.
Key Takeaways
These are all the advantages that commercial pressure washing in Toronto offers. While aesthetics are essential, pressure washing is not just about appearance but also about maintenance and prevention of more significant issues. Commercial pressure washing services in Toronto provide a complete, deep cleaning far more necessary than you may believe. A thorough cleaning can assist keep your facility in good condition and even maintain the health and safety of your staff.
We at GCBS Group consider ourselves one of the best commercial pressure washing in Toronto, ready to clean your property and bring it to an as-good-as-new look. Contact us today for a free quote!
0 Comment
Leave A Comment